The head is made of A++ brass with a removable genuine wood handle.
Add that special finishing touch to your letter or note with a magnificent handcrafted brass wax seal.
Perfect for weddings, baby showers, birthday parties, or even more.
This stamp is ideal for decorating envelopes, invitations, postcards, snail mail, wine packages, gift wrapping, etc.
Your personalized wax seal stamp can be any logo, signature, initials or design. Please allow 2-3 days for production.
Bulk purchasing: Yes
Dropshipping services: Yes
Custom packaging: Yes
Stamp total length: 3.54in / 9cm
Stamp head diameter: 1in / 2.5cm
Gift box measures: 7.48x5.5x1.57in / 19x14x4cm
Pack
(1)Stamp only
It comes with one stamp and wooden handle.
(2)Luxury kit
Our luxury kit includes one stamp (with wooden handle), three sealing wax sticks (enough seal at least 50 envelopes), one brass spoon (with wooden handle), and two eco-friendly candles.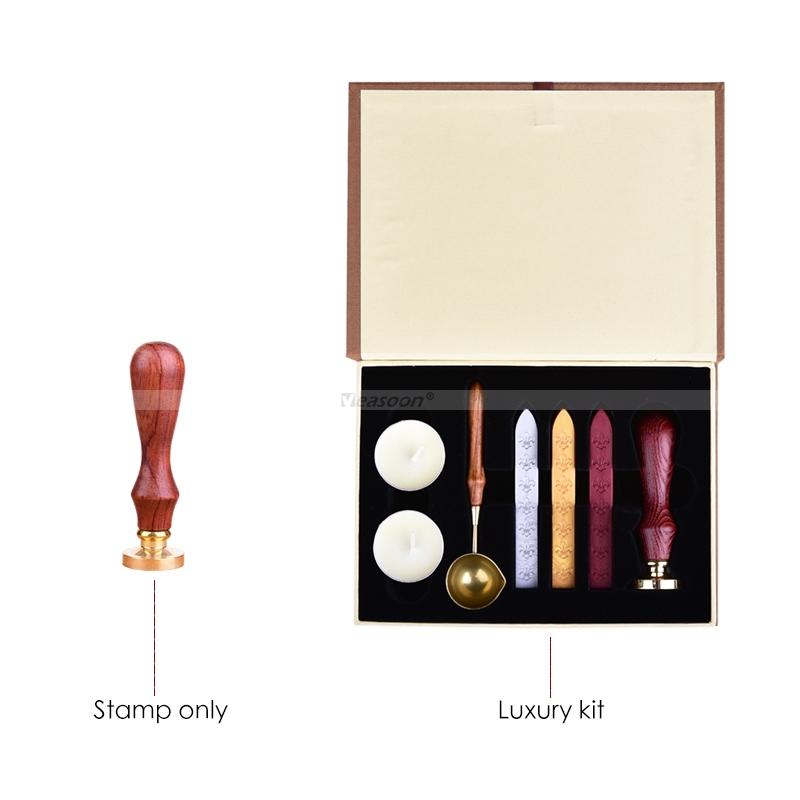 Options explanation
(A)Same as the image
The wax seal stamp is the same as the first image.
(B-1)Same design with my letters instead
This option keeps the format, font, ornamental pattern, but puts your letters instead. Additional notes, such as a date, numbers, etc.
(B-2)Add my letters
This option is for the standard designs, keep all the format, font, letters, and ornamental pattern, but add your notes.
(C)Make my own design
This stamp will have your own design. Please upload the image file. It can be a rough mockup. Our designer will help do the rest.
How to use wax seal stamp?
How to clean the wax seal spoon?